Learn, Analyse and Implement Data Structure using C and C++. Learn Recursion and Sorting.
Created by: Abdul Bari
Produced in 2022

What you will learn
Learn various Popular Data Structures and their Algorithms.
Develop your Analytical skills on Data Structure and use then efficiently.
Learn Recursive Algorithms on Data Structures
Learn about various Sorting Algorithms
Implementation of Data Structures using C and C++

Quality Score

Live Chat with CourseDuck's Co-Founder for Help
Need help deciding on a c course? Or looking for more detail on Abdul Bari's Mastering Data Structures & Algorithms using C and C++? Feel free to chat below.

Course Description
You may be new to Data Structure or you have already Studied and Implemented Data Structures but still you feel you need to learn more about Data Structure in detail so that it helps you solve challenging problems and used Data Structure efficiently.

This 58 hours of course covers each topic in greater details, every topic is covered on Whiteboard which will improve your Problem Solving and Analytical Skills. Every Data Structure is discussed, analysed and implemented with a Practical line-by-line coding.
Source code for all Programs is available for you to download

After Completing Course
After completing this course you will be confident enough to take up any challenging problem in coding using Data Structures.

Course Contents
1. Recursion
2. Arrays Representation
3. Array ADT
4. Linked List
5. Stack
6. Queues
7. Trees
8. Binary Search Tree
9. AVL Trees
10. Graphs
11. Hashing TechniqueWho this course is for:
Developer who want to get Deepest knowledge of Data Structure
Undergraduate who want to Learn Data Structures Perfectly

Instructor Details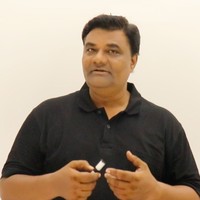 4.8 Rating
52 Reviews
Having over 20 years of experience in the computer science and information technology fields. Taught many courses at the University level to thousands of students.
Have been training students and employees on various programming languages like, C++ , VC++ , JAVA technologies and Web Development.

Have Delivered Seminars on various topics like Distributed System, Cloud Computing and Big Data
Have been into web development using technologies like, Java, ASP.NET and PHP.

Running a Youtube Channel on "Algorithms" , which has help many university students in their academics.

Reviews
Write a Review